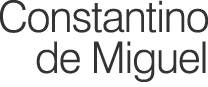 SPANISH VOICE TALENT
BILINGUAL JOURNALIST
I will be ready to audition, but please give me a good reason !

SAMPLES
Most samples have not been mixed with music, nor compressed, so that you can hear the acoustical quality of my professional studio
If samples are still too generic, don't hesitate to ask for an audition to persuade you, your client or producer. Please submit a piece of your script with your instructions on tone and voice style. Yes, that's free of charge !



Show Reel
As an active TV news reporter I have substantial on-camera experience addressing the audience in both Spanish and English. That includes live reporting. You can watch in this showreel some stand-ups from reports I have produced in places like Tanger, Davos, Geneva, Paris, Madrid, Astana, etc.