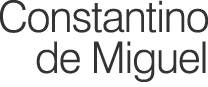 SPANISH VOICE TALENT
BILINGUAL JOURNALIST
Just send me your script and I will record it with the tone, tempo and timing you expect

VOICEOVERS
You will get a seamless Spanish voiceover presentation with the right dose of warmth,
passion and persuasion for your commercials, spots, ads for radio and TV, infomercials,
corporate video, tutorials, as well as e-learning narrations, phone IVR prompts,
GPS navigation messages, security announcements, feature reports and documentaries.
DUBBINGS & LIP-SYNCH
" If you want words to pictures, like in dubbed movies, you can count on me "
I can synchronize my Spanish speech to the video sequences. This is how I do it: by using ProTools HD, a Time Code is generated on your video. This allows me to voice over the pictures in a logical and natural fashion. With VoiceQ software I get a kind of Karaoke which scrolls on screen and allows me to do lip-synchronizing. In both cases you will get from me an audio track perfectly matching the original video.
This is what I need from you ...
A correct translation that fits with the pictures. Not too long, not too short. If you are not sure, I can fix it for you. Just click on
SERVICES